Mary Michaud, RN, MSN, FNP
is a clinical herbalist, family nurse practitioner, and Reiki master. She earned a master's degree in nursing from the University of California at San Francisco where she graduated with highest honors. In 2006 she completed the three year Community Herbalist training at Sacred Plant Traditions Center for Herbal Studies where she was a clinical instructor from 2006—2013.
This year Mary celebrates her 26th year in clinical practice! She has provided care for people of all ages in the hospital, office, correctional facility, nursing home, free clinic, and home settings.
With her experience diagnosing, prescribing medications, and managing complex cases as a nurse practitioner Mary is able to work safely with people on pharmaceuticals or undergoing medical treatment. Her training with expert diagnosticians at top medical institutions in California and locally uniquely qualify her to offer second opinions on diagnoses, and advise people on integrative courses of action.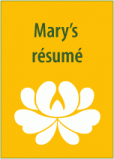 Mary teaches classes on Ayurveda, flower essences, emotional balance, practicing happiness, and general health topics at herbal and yoga schools, the Gaia Gathering for Women, the Balanced Hedonism retreat, and by invitation.